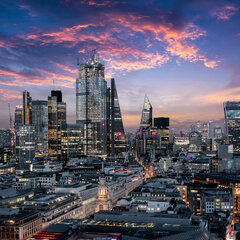 "Never put off till tomorrow, what you can do today"
The vaccine news will likely be seen, in hindsight, as the turning point in performance for value investors. We believe the financials sector will be one of the biggest beneficiaries of this rotation, as the COVID-19 crisis abates and regulators remove restrictions on dividends and buybacks. Expectations are still low for the sector to outperform. It remains unloved and undervalued, having underperformed global equity markets by close to 70% over the past 10 years, but that underperformance could reverse quickly.
There are significant opportunities within the sector. For example, Asian emerging market financials are benefiting from Asia's better handling of COVID-19 which will allow a faster recovery as well as continuing to benefit from the low penetration of financial services to GDP relative to developed markets, thereby underpinning long-term growth potential. Payments companies continue to benefit from the shift from consumers using cash to card and the growth of e-commerce.
In our view, the financial sector will be one of the biggest beneficiaries [of the] sharp rotation out of growth sectors that have benefited most from the lockdowns, back into those sectors that were hit hardest.
Without doubt, the biggest driver will be the unravelling of the steep discount to which the sector has been trading relative to the market. According to research by Michael Samonov, the CEO of Two Centuries Investments, highlighted in an article in the Financial Times, the performance of value investing since its recent underperformance started in 2006 was, in October, the worst since at least 1826 – the year Thomas Jefferson, the third US President of the US, died. The recent pickup in M&A activity highlights the perceived value in the sector.
As a result, we have started to see a sharp rotation out of growth sectors that have benefited most from the lockdowns, back into those sectors that were hit hardest. At a minimum, we anticipate this trend will last for months, perhaps longer, and it is happening quickly. In our view, the financial sector – the largest component of value indices, encompassing not only banking, insurance, payment companies and stock exchanges but also asset managers and consumer finance companies among other businesses – will be one of the biggest beneficiaries.
In particular, the share prices of banking and insurance companies were hit hard by COVID-19 and understandably the vast majority are yet to recover fully. The former fell on the back of concerns around rising loan loss provisions resulting from a rise in company failures and unemployment as a consequence of government-imposed lockdowns and changes in spending behaviour. The latter fell over concerns claims from travel insurance, event cancellations and business interruption policies would hit profitability.
Banking and insurance are incredibly attractive businesses if done well. They are equally big beneficiaries, as vaccines allow governments to open their economies. Banks have already put aside provisions to cover loans losses for a materially worse economic outturn than currently forecast. Over the course of the next two years, they should see a significant jump in earnings thanks to this conservatism. The insurance sector is seeing insurance rates rise for some classes of business at the fastest rates in years, with some industry commentators saying it is the most attractive market in over 10 years.
Global financials have risen by 55% over the past five years compared to UK financials' rise of only 15%. One way to get exposure is via the Polar Capital Global Financial Trust which was launched in 2013 to give investors a lower-risk way of gaining exposure to the sector. It has around 50% of its portfolio invested in bank shares, predominantly in the US and Asia but also in Europe and the UK, along with exposure to other subsectors such as insurance, payments and asset managers. It pays a dividend yield of close to 3.5%1.
We have seen many times in equity markets that we should expect the unexpected. In 1826 many bank shareholders were unprotected by limited liability. Today the risk/reward in the sector is very different. As Thomas Jefferson said: "Never put off till tomorrow what you can do today". When economies fully reopen in 2021, the opportunity to take advantage of low valuations in the sector will likely have passed.
1 Bloomberg, 27 November 2020.