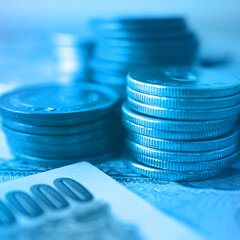 In 1972, Zhou Enlai, the Chinese premier, in answer to a question about the ramifications of the French Revolution reputedly said it was "too early" to tell. In the short term, the ramifications of the decision by banking and insurance regulators in the UK and Europe to make institutions under their jurisdiction suspend dividends to shareholders, to preserve capital, can be seen in their share price performance. UK banks underperformed their US peers by close to 20% over subsequent weeks.
The decision has undoubtedly impacted the income stream of charities and individuals that rely on dividends from the sector and this has not escaped criticism – more than £17bn in dividends has been foregone in the UK alone. However, there are UK financial companies that are expected to continue to pay attractive dividend yields, including a number of life assurance companies, such as Legal & General, as well as asset management companies, such as  Schroders. Elsewhere, dividend yields, outside a number of smaller companies, are thin gruel.
TABLE
While the ban on dividends for banks in Europe has been almost universal, there is less consistency in the insurance sector. AXA, the French insurance company, was expected to pay a €3.1bn dividend but has had little choice but to acquiesce and defer any payment for now*. However, German insurance companies Allianz and Munich Re, following the lead of their regulator which has been more pragmatic, have continued to pay.
*AXA has recently announced they will pay a reduced dividend
Nevertheless, one should not look at the sector solely through the lens of the UK or Europe as there are many financial companies globally that are still paying dividends. For example, US banks' dividend payout ratios were much lower coming into the crisis. Furthermore, by ceasing buybacks that in a normal year would represent over two thirds of the capital they return to shareholders, they have the flexibility to maintain dividends which are now meaningfully higher with the fall in share prices. JP Morgan's current dividend yield, for example, is 4%.
The financial sector has been hit hard but while it is too early to say definitively that the sector has bottomed, it will be one of the biggest beneficiaries as and when underlying economies recover. History shows the sector is normally quick to sell off when there is economic or financial stress and quick to recover, reflecting its cyclicality. Globally, banks trade on multiples previously only ever seen during the global financial crisis when their solvency was in question. Today the opposite is true. Insurance companies have also suffered sharp falls in share price but are similarly likely to see a rebound reflecting the sharp rise being witnessed in insurance rates.
Global financials have outperformed UK and European financials by over 35% over the past five years and we see no reason why that trend of outperformance will not continue. The Polar Capital Global Financial Trust (PCFT) currently pays a dividend yield of 4.5%** and is designed for those who want exposure to the sector and still receive an income without taking the risk of picking individual companies to invest in. The Trust is not immune to the regulatory dividend-driven diet on its European holdings, but it has revenue reserves built up over the past seven years, since it was launched, that enables the Board of the Trust to maintain dividend payments to shareholders.
**The Historic Yield reflects distributions declared over the past twelve months as a percentage of the share price, as at 30 April 2020. It does not include any initial charge and investors may be subject to tax on their distributions.
IMAGE
Source: Bloomberg; MSCI ACWI Financials Index; STOXX Europe Financials Index; 22 May 2020.
PCFT has a globally diversified portfolio of financial services companies with 46.2% in bank shares, including JP Morgan, Bank of America and HDFC Bank (the largest private bank in India) and 18.9% in the insurance sector with holdings, for example, in AIA Group, Allianz and Marsh & McLennan. Further large holdings include payment companies PayPal Holdings and Mastercard which are benefiting from the shift from cash payments to cards and the increase in e-commerce spending which has seen an acceleration due to the COVID-19 crisis.
TABLE
Source: Polar Capital; 30 April 2020. 1Gearing of 7.6%
Zhou Enlai's reply to that question in 1972 led to a belief that Chinese leaders took an exceptionally long-term view of global events. In reality it is believed that he had misunderstood the question and thought he was being asked about the 1968 student riots in France, four years earlier, and not the French Revolution of 1789. Either way, we will not have to wait four years to see the consequences of dividend suspensions and other actions taken by regulators.