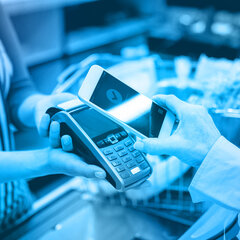 George Barrow
Fund Manager
Coronavirus is likely to have meaningful, long-term consequences on the way we live and it is already pushing more and more aspects of daily life online. Just as people are adapting to working from home, the increased use of technology to manage one of these aspects, personal finances, is likely to have a lasting impact and accelerate the structural shift to digitalisation across the sector.
The speed of this change is captured by Microsoft CEO Satya Nadella who said in April: "We've seen two years' worth of digital transformation in two months." While we are currently in the eye of the storm, we have been looking at how the behavioural changes could affect the financials sector and have set out our key themes below.
The demise of cash
One impact of the crisis has been the reduction in people using cash, prompted by restrictions on movement as well as concerns about infection (Link expects cash to fall to 10% of UK transactions by August versus 33% prior to the lockdown and 63% in 2008). While there is no evidence that banknotes or coins have been a source of infection, there is a public perception of risk. This has been compounded by government steps to quarantine banknotes, as seen in the US and South Korea; the Louvre in Paris has banned cash; the state media in China reported that banknotes from high risk infection areas including hospitals and wet markets are being disinfected or destroyed. The risk of transmission from handling cash is not clear but previous studies have shown flu viruses can survive on banknotes for up to 17 days while a research team at NYU identified 3,000 different types of bacteria on one dollar bills, along with DNA from pets, viruses and traces of drugs. As people adapt to the crisis and shift to contactless and online payments, the pandemic appears to be accelerating the demise of cash which will have long-term consequences for financial services.
Payment companies benefiting from shift to on-line spending
This accelerated shift to online has benefited payment companies with 1Q20 operating trends highlighting the resilience of their business models. While not immune to the downturn, payments companies like PayPal Holdings and Adyen (both of which we own in the Polar Capital Global Financials Trust)  have benefited from consumers' increasing shift to e-commerce – PayPal Holdings averaged 250,000 net new active accounts every day in April, a growth rate of 135% year-on-year (y/y). Adyen (which reported a growth in processed volumes of 38% y/y in 1Q20) saw weekly volume trends stabilise in April with a rise in online retail volumes, of 20-40% above the level reported in January, offsetting the decline in in-store volumes as customers adapted to lockdown measures.  The acceleration in cash displacement can also be seen through the card networks with Visa noting that overall contactless use in the US has risen by 150% y/y. The increased use of contactless payments to reduce transmission risk has been encouraged by public authorities and the industry has responded to the crisis by expediting changes. UK Finance, for instance, announced the spending limit per transaction will be raised to £45 from £30.
PayPal Net New Active Accounts               Adyen Weekly Volume Trends

Source: Paypal (Q1 2020 results), 6 May 2020.                        Source: Adyen (Q1 2020 and COVID-19 trading update), 21                                                                                                                      April 2020.
Digitalisation of banking sector to accelerate
Coronavirus will likely accelerate the ongoing process of digitalisation in the banking sector and be a huge advantage to those with the strongest digital capabilities – digital bank customers typically have a cost/income ratio of 34% compared to 54% for their traditional customers. As highlighted by DBS, those that have previously committed to digital banking will also be in a better position to manage efficiency. A recent survey by consumer behaviour experts JD Power highlighted the pandemic has been a catalyst for a behavioural shift (36% of US retail banking customers surveyed plan to increase their use of online or mobile banking services post-coronavirus) with the crisis accelerating the trend of large US banks gaining digital customers at a faster pace than smaller and midsize banks.
In the new environment, digital challenger banks look well placed given their distribution capabilities and speed of innovation. However, recent data suggests that these advantages have not translated into higher customer growth (daily downloads of digital challenger bank apps have fallen year to date) or higher engagement (monthly average users for European digital challenger banks is down 16% in the three months to 22 April compared to being down 9% for EU incumbent banks). Potentially, this reflects customer nervousness about untested models during a downturn while challenger bank growth ambitions may have to be scaled down to reflect a new venture capital funding environment. With the crisis emanating outside the financial sector and governments looking to use banks as a solution, through credit guarantee schemes, we believe this period offers an opportunity for the incumbent banks to rehabilitate their image post the global financial crisis with the future winners likely to be those banks best able to leverage strong digital capabilities, including through partnerships with fintech providers.
Financial inclusion and public policy
The impact of coronavirus, including lower cash acceptance, reduction in remittances and lockdown restrictions, is expected to be particularly severe on lower income groups and those without a bank account. This is likely to lead to a greater urgency in terms of public policy to drive digital payments and technology as a means of financial inclusion while fintech can provide a valuable role in offering alternative payment methods. In Argentina, Ualá (Tencent-backed fintech) has seen a 300% monthly rise in transactions on its digital bill payments service as customers have been unable to pay utility bills at the neighbourhood payment point. The government in India has encouraged the use of contactless payments and UPI (a real-time mobile payments system) although there remain challenges for microlenders reliant on regular customer meetings. Ant Financial (Alibaba's fintech affiliate) is using technology to offer access to low cost insurance (there is a 4.5% insurance penetration rate in China) through a mutual aid insurance platform (Xiang Hu Bao now has 100 million members) and has recently included coronavirus as one of the critical illnesses covered, with its blockchain-based platform enabling a faster way to process claims and make payouts.
A catalyst for change
The pandemic has prompted a rapid change in behaviour which is set to hasten the reduction in the use of cash post-coronavirus and involve a significantly higher level of digital engagement with financial services. These changes will be reinforced by public policy as governments look to encourage the use of digital financial services to tackle the crisis. We believe payment companies are a clear beneficiary of this structural change – they also make up the large majority of the Polar Capital Global Financials Trust's fintech exposure, at 14% (as at 27 May 2020) – and the crisis is likely to widen the gap in terms of competitive positioning between the digital leaders and followers across financial services.