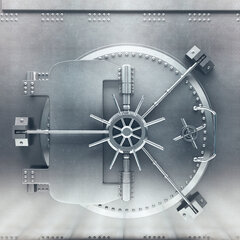 George Barrow
Fund Manager
Financials continued their recent run of outperformance in March as confidence about the outlook increased despite a pick-up in COVID-19 cases across a number of countries. Bond yields continued to rise with the US 10-year government bond yield rising to 1.7% from 1.4% over the month. Against this background, the Trust's net asset value increased by 4.1% while our benchmark index, the MSCI ACWI Financials Index, rose by 5.6%.
US financials rose by 6.9% over the month as the improving economic outlook reflected in firmer business (ISM Manufacturing PMI is at its highest level since 1983) and consumer surveys. Labour market data also exceeded expectations (916,000 jobs were added in March) with hiring ahead of an expected release of pent-up demand on the back of fiscal stimulus and vaccine distribution. The $2trn infrastructure package announced by President Biden, to be partly funded through tax increases, has little chance of bi-partisan support but could potentially only require Democratic backing, through the use of budget reconciliation, and would add a further significant layer of fiscal stimulus to the US economy.
The strengthening outlook (consensus 2022 US GDP growth was revised up 40bps to 4% in March) was accompanied by a further rise in bond yields and a steepening in the yield curve as the interest rate outlook was reassessed. During the month, the Federal Reserve announced the restrictions placed on US banks' dividends and buybacks (capped at 100% payout on their trailing last four quarters' earnings) would be lifted in June subject to them passing stress tests. While broadly expected, the news is a positive development which improves visibility on the outlook.
There has been little change in terms of the macro environment with north Asia continuing to outperform on the back of strong technology-related exports and large trade surpluses insulating them from some of the volatility.
Asian financials saw a mixed performance in the month, rising by 1.9% with strength in developed Asia offset by weakness in a number of emerging Asia countries (particularly India and Indonesia). There has been little change in terms of the macro environment with north Asia continuing to outperform on the back of strong technology-related exports and large trade surpluses insulating them from some of the volatility. South-east Asia has been partially helped by a boost from commodity prices but, overall, the domestic economies throughout the region remain weak, not helped by higher unemployment.
Though inflation continues to be weak, a stronger US dollar has placed a hold on further interest rate cuts in the region for the time being. COVID-19 cases are also rising materially in India, leading to additional restrictions being implemented in Maharashtra and Delhi. While we remain positive on the longer-term prospects for Indian financials, we trimmed some of our holdings during the month following a strong recovery.
European financials rose 4.0% in March with both the insurance and banking sectors seeing strong gains. This came despite the worsening trend of infection rates, with France reimposing a national lockdown while there is growing pressure on the German government to introduce national restrictions before hospitalisations exceed capacity. However, improved economic sentiment indicators combined with expectations of an accelerated vaccine rollout in the second quarter have supported markets with investors looking through the third wave of infections and focusing on the potential for a strong rebound in in the second half of the year once restrictions ease.
In the portfolio, OneSavings Bank suffered some selling pressure after it announced a potential fraud on a funding line to a third party. The exposure is small at 0.15% of group loans and is not within a core lending segment of the bank (third-party funding lines are 0.9% of total loans) suggesting limited read-across for broader underwriting trends. Nevertheless, it announced that results would be better than expectations even assuming a complete write-off of the loan, and as a result its share price has since recovered after the month end.
The fallout from the failure of Archegos hit a number of bank shares in the last week of March as investment banks scrabbled to cauterise potential losses from their exposure to the family office. A small number of banks have confessed to losses, most notably Credit Suisse, which after the month end put its loss at over CHF4bn, albeit the market is concerned about its exposure to the failure of Greensill Capital as well. The Trust does not have a holding in Credit Suisse or any of the other banks that announced losses.
We remain constructive on the outlook for the sector and the Trust. While markets are probably due a pause following their strength since the March lows of last year, we believe the tailwinds remain very positive for the sector over the next couple of years with analysts raising earnings estimates on the back of better than expected results. History also shows that the sector outperforms at this point in the cycle and while valuations have jumped from their lows last year, in many instances they remain below if not well below where we see fair value.