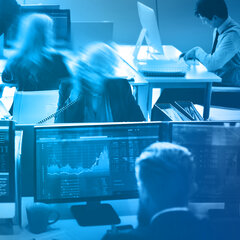 - Over £200m of shares now issued by the Trust since 30 November 2020
- High demand from existing and new investors
Polar Capital Holdings plc (Polar Capital), the specialist active asset management group and the Board of Polar Capital Global Financials Trust Plc (PCFT) have announced the results of its most recent C share issue.
PCFT targeted a capital raise of £100m, but demand saw that target surpassed to raise £122m, supported by both existing shareholders and new investors.
Nick Brind, co-manager of the Polar Capital Global Financials Trust said: "Global financials is one of the largest, most diverse sectors but for more than a decade it has been ignored by investors, overshadowed by the financial crisis and impacted by the global pandemic. But as the economies across the world recover and rapid technological developments and regulatory change transform the sector, investors are seeing this as a long-term value opportunity."
PCFT highlights:
PCFT is the only UK-listed investment trust focused solely on financials
A dual focus on dividend and capital growth
Dividend growth of 5.13% pa
Actively managed and not benchmark-driven
Broad global, multi-cap remit, with typically around 90% invested ex-UK
Managed by a team of five sector specialists with almost 100 years' investment experience

Robert Kyprianou, Chairman, Polar Capital Global Financials Trust, said: "I am very pleased to see the breadth of support from so many firms and individuals, the level of that support and the capital raise has exceeded its target. The Board and the Investment Manager feel strongly that this is a sector of considerable attraction at this point of the investment cycle as well as a beneficiary of potentially higher bond yields. We are all very grateful for the further backing of the Company and optimistic about the prospects for Shareholders."
It is expected that Admission will become effective and that dealings will commence at 8.00am on 21 June 2021.
Ends
For further information, please contact:
Camarco
Louise Dolan:  020 3757 4982 / 07446 870025 / louise.dolan@camarco.co.uk
Violet Wilson: 020 3781 8338 / 07875 841477 / violet.wilson@camarco.co.uk
Annabel Reed: 020 3781 9242 / 07969 273049 / Annabel.reed@camarco.co.uk
About Polar Capital
Polar Capital is a specialist, investment-led, active fund manager.  With a collegiate and meritocratic culture where capacity of investment strategies is managed to enhance and protect performance. Since its foundation in 2001, it has grown steadily and currently has 15 autonomous investment teams managing specialist, active and capacity constrained portfolios, with combined AUM of £20.9bn (as at 31 March 2021).
Polar Capital is principally located in London and maintains offices in New York, Los Angeles, Connecticut, Edinburgh, Madrid, Frankfurt, Paris and Shanghai.
Polar Capital LLP is authorised and regulated by the UK Financial Conduct Authority and registered as an investment adviser with the US Securities and Exchange Commission.